Executive Team
---

Margie Seaman - President
---
As president of Citation Solutions, Margie brought to her position 37 years of experience in marketing and sales promotion. She has been a member of Citation Solutions for more than ten years and became President in 2008. Before accepting the position with Citation, Margie was with Foley's, a senior division of May Department Stores, in Houston, Texas where she developed training programs for all stores' new hires and executives. Margie actively participated in the successful opening of 43 new Foley's retail stores throughout Texas, Louisiana, New Mexico, Colorado and Oklahoma. Along with training development, Margie joined the May Department Stores corporate team working to develop new standardized POS terminal transactions. Margie's expertise at coding POS applications was a perfect fit for designing websites. Citation designs sites from a marketing viewpoint rather than a strictly technological one. Margie's philosophy is that "a website is really a store front on the internet and the goal of any site that offers products or services is to get sales." "At Citation, we are interested in helping our clients build sales and grow successful businesses."
Margie is a native Houstonian and has a BA degree from the University of Houston. She was an active volunteer with the United Way of Houston and served on the Allocations Committee for several years. Margie also served as a volunteer with the Houston Independent School District's VIP program tutoring non-English speaking children. She maintains a leading role as a training facilitator and has recently conducted classes in a variety of business-related disciplines in Houston and surrounding cities.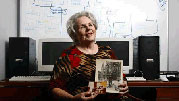 Click Here to Read Related News Article on Margie in the Houston Chronicle
---
Lorin Williams - Chief Financial Officer/Owner
---
Lorin Williams, VP of Technology, is responsible for technological operation of the company as well as the daily financial operation of Citation Solutions, Inc. Mr. Williams has had an ongoing relationship with Citation for more than 25 years, having initially joined the company while it was still operating as Citation Computers, Inc. and having rejoined the company in 1998. In addition to his role with Citation Solutions, Mr. Williams is also the principle of Citation Consulting, Inc. which specializes in business and IT consulting and support services for mid-sized business in the Houston area.
Mr. Williams received his undergraduate degree as well as an MBA from the University of Texas at Austin. In addition to his role with Citation he has held positions with NCR/AT&T and Coopers & Lybrand
---
---

Zach Gremillion - Videographer
---
With a wide range of commercial experience from businesses to sports professionals, Zach has the tools, knowledge, and experience to output captivating and dynamic video experiences suitable for any presentation. While attending the University of Houston for digital media in the arts, Zach began filming the Houston Texans for their last 2 homes games of the season in 2015.
Zach has since graduated from UH and has shot commercials for companies such as Hou-Scape and created a full feature film "The Prattville Way" which was just released in theaters December 9th. Zach has photographed weddings, company parties, MMA fights, MLB games, quinceneras, proms, birthdays and more. Just ask!
Feel free to email Zach at photo@zachgremillion.com for any inquiries.
Consultants
Scott Seaman -
Content Text/Editor



Joseph Horne -
Technical/Design



Citation also works with a cadre of professionals who provide services from programming to technical design. Many of our consultants have been with us for more than 20 years while others are new to the company and bring with them fresh, energetic ideas.