Training
---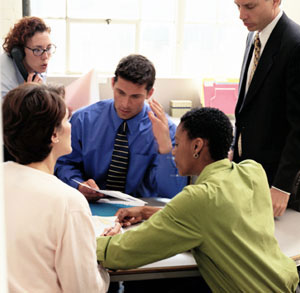 Citation Solutions now offers another dimension of service to help you with your business needs. We now offer professional training and development services in a variety of areas.

Our training programs can provide assistance through the following:
• Group training seminars on the disciplines of manager development conducted by a training professional.

• Computer based training programs utilizing your company's Intranet system.

• Written training programs developed on specialized company needs including IT Training, Human Resource policies and procedures and Customer Service programs.

Available Training Sessions
Team Building
This program is an entertaining, informative session designed to build a new team or to strengthen the dynamics of an existing team. Attendees will work together on a variety of skill practice exercises that demonstrate the value of teamwork to reach a common goal.
Motivational Feedback Skills
This program is designed to train managers, or front line supervisors, in the use of feedback skills as a means of motivating their staff. The session covers the delivery of both positive and constructive feedback and discusses the effect of unintentional feedback on the workforce. The program concentrates on motivational needs of the employee as well as offers hands-on training through role-playing and skill practice.
Diversity Training
This session discusses the change in the demographics of today's society and provides an introspective discussion of personal prejudices and how they relate to the workplace. Diversity training will ensure that all employees are being treated fairly and consistently. Sexual harassment training may be added.
Time Management
This program offers managers and supervisors information on how to reduce time wasters and concentrate on time gainers. Attendees will have an opportunity to learn the value of daily planning achieving goals through the use of delegation.
Customer Service Training
This session concentrates on how to offer outstanding customer service. The program covers how to greet the customer, how to demonstrate readiness to help and the importance of thanking the customer by name.
Other Training Services:
Citation Solutions can also provide specialized programs or training materials on topics such as:
• IT Training
• Policies and Procedures
• New Employee Booklets
• Training collateral for company sponsored programs.
Training collateral for company sponsored programs.
To learn more about our training services, please contact us today at 713-895-8261.